Scotland's independence bid is over, so now it's time to address a phenomena that probably started in Scotland but somehow went horribly awry when it came to the US.
I'm talking about argyle.  For full disclosure: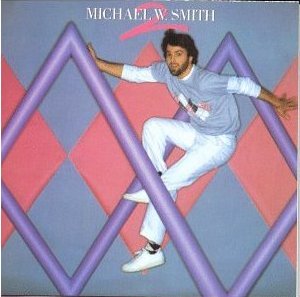 Yes, I lived through the 80s.
Yes, I wore argyle socks.
Yes, I enjoyed Michael W. Smith's 2nd album when it came out in 1984, but, NO, I didn't want a sweater like that, not then, not now. Argyle is acceptable on socks, it's totally awesome when it's the name of a gnarly character in Braveheart, Uncle Argyle: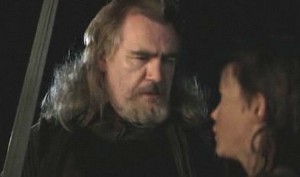 But argyle was not intended to be worn above the socks by men over the age of 5. I think I was forced to wear a wool argyle sweater when I was 5 for a picture. The only thing I remember about it was that I thought it was horribly itchy and irritating.  The itch from that sweater subsided long ago, but the irritation of argyle remains.
Argyle has crept into our nation's collective consciousness. It strikes without warning. I went looking for a sweater the other day, so I checked out a nice, safe place for a man to shop…Lands' End.
This is what I found: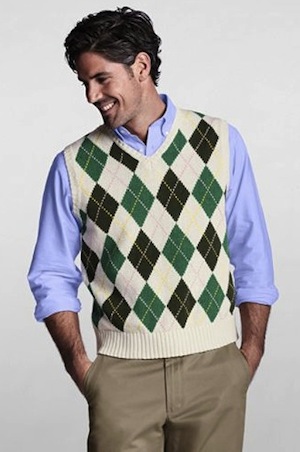 Note that the model's would-be manly nonchalance is overwhelmed by the silk argyle sweater vest. That's right, it isn't just argyle, it's also silk.
No problem, I thought, I'll shop at Sears. I happen to know that Sears is where America shops. Sears is also the home of Craftsman Tools, the hand tools with the lifetime guarantee.
What could be more manly? Not these Sears sweaters: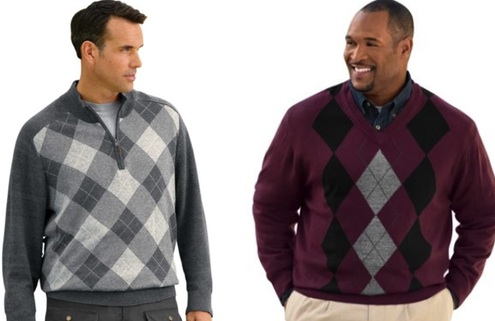 Don't let the smiles deceive you. The guy in grey is saying, "This is the lowest point in my modeling career." The other guy doesn't even hear him, because he's too busy thinking about the fact that this picture will end up on the Internet and he'll never be able to get a date again.
Sears also had this: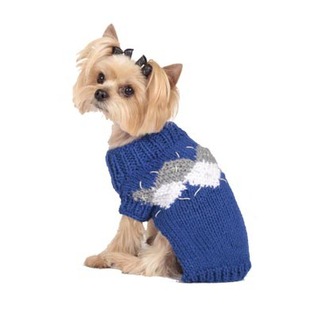 OK, I'll concede that maybe this is ok. After all, this dog's dignity had already vanished back the moment his groomer completed the haircut and put in the hair bow.
I realize that I may have male readers who themselves own, and perhaps even enjoy argyle sweaters. It's ok, we all make mistakes. There's still time to see the error of your ways and embrace the fact that multicolored triangles were never intended to be emblazoned on a man's chest area.
So be free! Wash your argyle sweater in hot water, then dry it for a long time in the dryer so that it will only fit your dog. Immediately afterward, go to Tractor Supply Company and buy yourself a sweatshirt or something. I guarantee you, Tractor Supply doesn't have argyle sweaters.
After you've done this, talk with your friends and be sure they get free from argyle as well. If we don't stop this now, it can only lead to worse things: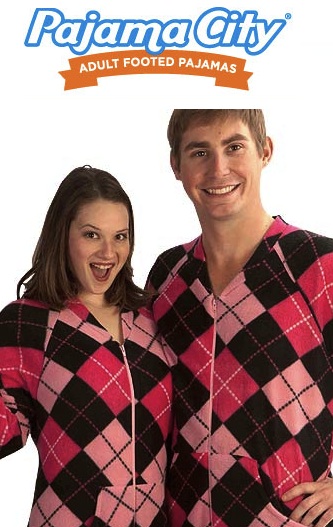 To quote Uncle Argyle, "Now that's something we shall have to remedy, isn't it?"
Thanks for reading! All of my wisest, wittiest readers sign up to get posts by email, just so you know.
If you're a nice person, I'd love to hear your comments on social media.
If you're not a nice person, reconsider.