It's fair to say it's been a difficult year, and this Christmas Season was as busy as ever and the most bittersweet of my life given that, with the death of my sister, this marks the first Christmas for me in which I am the only remaining member of the immediate family into which I was born.
On Christmas Eve our church appropriately commemorated the 200th anniversary of the writing of Silent Night by singing the first verse in the original German. The memories of my step father singing Stille Nacht around the house pretty much undid me for the rest of the song while my emotions about loved ones who are gone rushed in without my permission.
None of this is easy, but it is good. Having loved ones you miss means they were loved ones worth missing, a blessing all its own.
But there's a lot more to the emotional nature of Christmas than personal loss. When you strip away the bustle and gift seek-and-destroy missions that our culture demands this time of year, Christmas is truly a bittersweet holiday in all of the best ways. God didn't do something cute by sending His Son to be born just like us, He did something incredibly humble and unexpected. In the Christmas story there is wonder, sacrifice, tragedy, grace, joy, tenderness, power, weakness, and amazing love.
But now Christmas is over and it's back to the day to day, right?
How about we go Old School Traditional this Christmas? The 12 Days of Christmas START on 12/25. Put up your Christmas tree on Christmas night. (We did!) Celebrate for real now that the parties and responsibilities have settled down, and rest in the most beautiful of holidays.
If you're looking for a suggestion for how to spend 37 minutes breathing in the joy and sorrow, the peaceful power of Christmas, I have it for you.
It's a Christmas album.
Michael W. Smith released his first Christmas album, cleverly entitled Christmas, smack dab in the middle of his pop music / Alan Parsons beard / argyle sweater & socks combo period. It was 1989, and I made haste to my local bookstore to buy it. (Yes kids, I bought music in a store on a thing called a CD. I nearly broke my arm hand-cranking my Model T in order to get there) Having acquired my musical prize, I hurried home and put the disc in my stereo, prepared to ROCK OUT for Christmas. There was no ROCKING OUT. There was only an album that changed my Christmases forever.
Christmas is an orchestral, choral work of original Christmas music woven together with traditional carols with not a Jingle Bell in sight. I was blown away. What floored me was the message of the entire album as a cohesive work of art. Musically, lyrically, it wove a tender picture of the Nativity. One of my favorite moments is a simple verse sung by a child in the song All Is Well:
All is well, all is well
Angels and men rejoice
For tonight darkness fell Into the dawn of love's light
Sing A-le
Sing Alleluia
I get choked up just typing the lyric. Honest. Christmas makes Christmas Christmas.
You can listen to it on YouTube here: Michael W. Smith Album Christmas, but then you should go buy it on iTunes or whatever because you need to reward the artists for changing your life.
Now find the album, put on a pair of headphones, close your eyes and just listen, give thanks, and be glad.
Merry Christmas.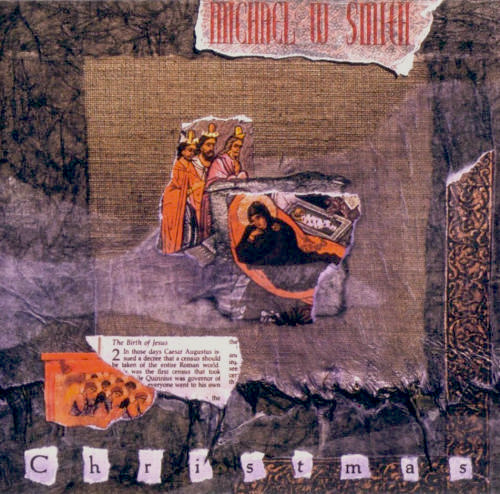 Thanks for reading! All of my wisest, wittiest readers sign up to get posts by email, just so you know.
If you're a nice person, I'd love to hear your comments on social media.
If you're not a nice person, reconsider.